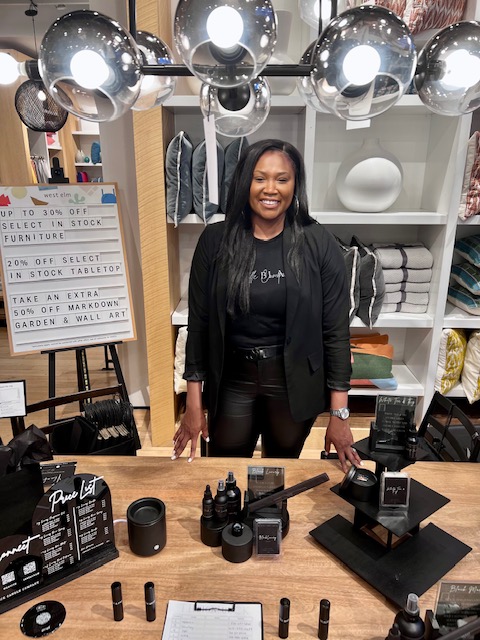 2021 was a rough year for Jessica.
On top of being locked down due to Covid-19 for the majority of 2021, Jessica was also struggling with mental health issues, fertility issues, and a ruptured Achilles. She was stuck in the house, going a little stir-crazy, when she remembered that she had purchased a candle-making kit a while back.
"I thought, 'Well, I'm not doing anything else, let me get the kit out.' And it was all she wrote! As soon as I got the kit out and made my first candle, I was hooked. It was very therapeutic. I've pretty much been making candles ever since."
With a 14-year background in healthcare, this was a new adventure for Jessica. But she decided to go for it because she was truly passionate! The Black Candle Company was born!
"It is a luxury home fragrance collection, specializing in affordable luxury. We offer over 8 different products and 6 different captivating scents. I also have an interior design company, Jessica Doaks Interior Design, that I run alongside this candle company. So that's kind of where my passion for affordable luxury stems from."
For the latter half of 2021, Jessica threw herself into learning how to run a small business.
At the end of a rough year, Jessica attended an event to support her friend, Alisha Davis. That event was The Academy Graduation, where Alisha was graduating with her nonprofit, Happy Hearts Smile. "I sat and watched her pitch and I was just like, 'Woah! This is just amazing!' The atmosphere of graduation was a vibe. I thoroughly enjoyed it, and then I talked with her and she gave me a little Cliff Notes version of what Corner to Corner did, specifically their program, The Academy. And I knew I had to join. I had already started my business, but I felt like I could definitely benefit from what Corner to Corner had to offer." 
Jessica enrolled in the following cohort, Spring 2022.
As horrible as 2021 had been for Jessica, 2022 flipped the switch! She worked on strengthening and expanding her business through The Academy for the first part of the year. And then, at her very own graduation, she placed first in our Compassionate Pitch Contest – The Black Candle Co. took home thousands of dollars worth of cash and prizes to help her continue to grow.
"The pitch competition was great for me. It was an opportunity for me to present my business in front of hundreds of people. To this day, I feel like a lot of people that I see out in the streets will be like, 'Ohh you're the girl who won the pitch competition!' So I get recognized for that! That's a step for my brand, and that's really exciting."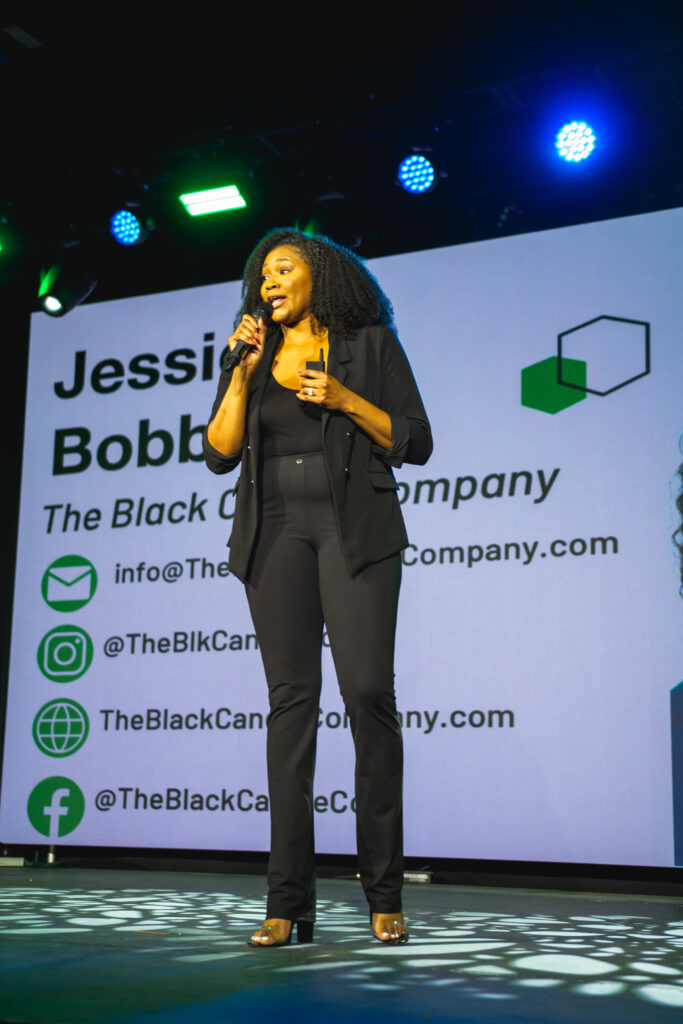 She also built up a relationship with West Elm, and has had four Black Candle Co. popups in their store – with more on the books for November!
"I'm really excited about that relationship with them. I fostered a great relationship with the managers and the staff at the store, and they enjoyed my products and my presentation, and how I interacted with customers. And the same with Pottery Barn – I've been there twice now. I was set up in West Elm one day, and the manager from Pottery Barn came by, saw my setup, and invited me over to Pottery Barn!"
Pretty soon though, Jessica will have a more permanent place to call home.
"I just recently moved into my first brick-and-mortar (which was a huge goal of mine!) I have a small space in the Creative Hub, which has about 150+ suites with other businesses. I'm now able to have my own candle studio and also a storefront where people can come in and purchase candles. So that's a goal that I can check off – and I'm pretty excited about it!"
The Black Candle Co is only a little more than a year old, but Jessica's growth has been explosive. Her next goal?
"I'd love to get a distribution deal with a large major retailer, like West Elm or Pottery Barn, or even Crate and Barrel. Someone of that stature. I want to get my products into one of those storefronts and kind of disrupt the luxury brand of candles and home fragrances."
If 2021 Jessica was able to look into the future and get just a glimpse of 2022 Jessica, we think she would be immensely proud – we know we are! Seeing our Academy Alumni flourish and bring their passions to the city of Nashville is why we do the work we do.
For our future entrepreneurs and for those who are on the fence about signing up, Jessica has one piece of advice.
"If you're passionate about what you're doing, don't let someone's 'No' or someone's slight keep you from achieving your goals. Because you're gonna hear people tell you no. People may not like your brand or what you're doing, and that's fine. If you truly enjoy doing whatever it is that you're passionate about, and you wanna make your business successful, don't let anybody stop you. Keep going, keep working toward your goal. And you may think, 'Oh that's so cliche' but it's so true, though!! If you legit just keep following your dreams and pursuing your passions, everything else will fall into alignment."
Visit The Black Candle Co. to learn more about Jessica's businesses!