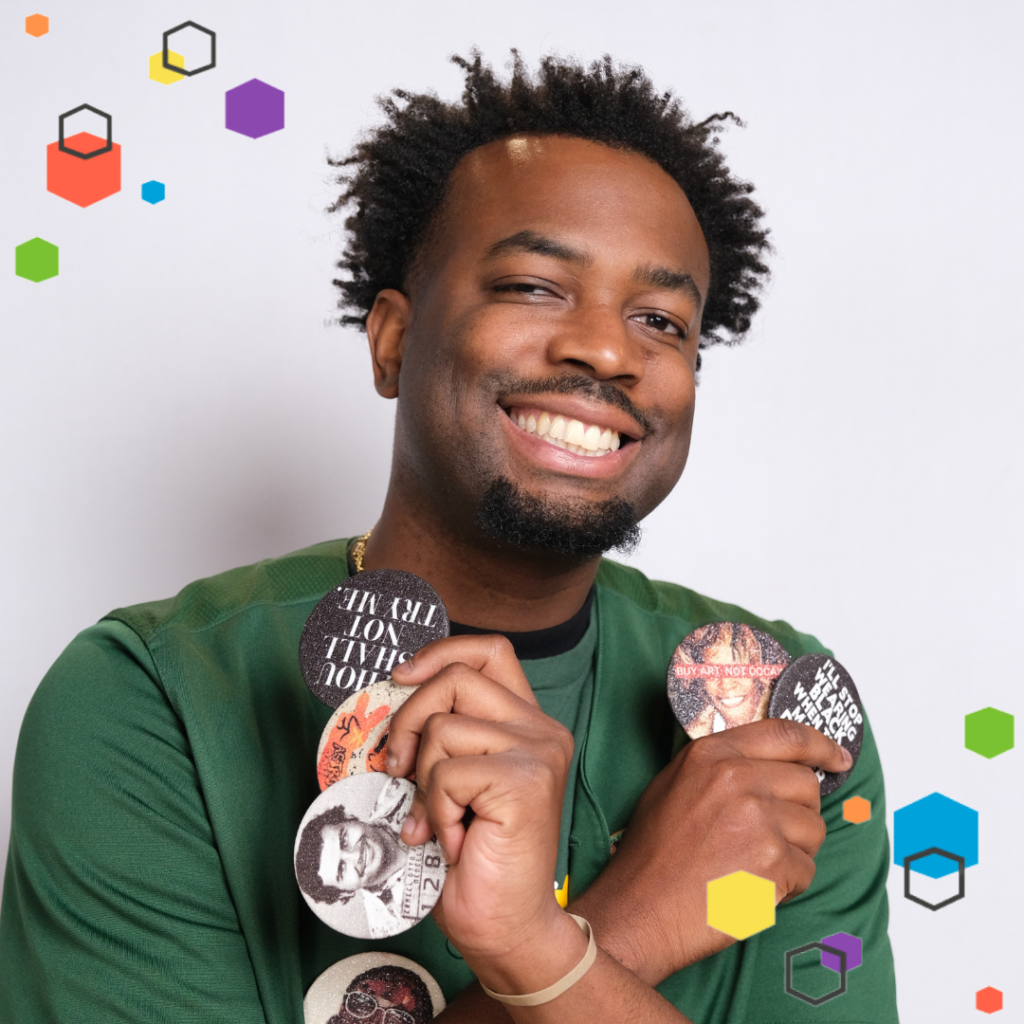 King of Buttonz
Have you ever been gifted a present at Christmas that comes with a 10-week commitment? Otis has!
"It was so random, it was like $25 to reserve my spot in the class. I looked it up and was like, 'Ok cool' but wow it was 10 weeks! The first time I saw everyone was at the Mardi Gras book pick-up, and they were passing out the curriculum. And I was like, 'Oh ok, this is kind of serious.' And then I got into it and I was like wow this IS serious! I'm glad I followed through on the 10-week Christmas present commitment, though!"
Otis had started OhButtonz the year prior to enrolling in The Academy. He was a little cocky and felt he knew it all in order to run a successful business.
"So somebody just bought me a spot in the class and I was like, 'I don't need no business academy, I know everything about businesses.' And on day one I realized I didn't know anything! So if I give one piece of advice to future Academy students: take it super seriously, go in with an open mind, and learn as much as you can. And work as much as you can!"
Once he realized how much The Academy could change for his business, Otis studied hard and worked harder. He loved attending classes and connecting with his peers, and felt passionate about his product and his business journey.
"I loved the support situation. A lot of people don't have support for their businesses. But Corner to Corner is like that instant support situation, where you're thrown into a big support group. And I liked how they have millionaires or people who are already successful in their businesses come into the class and talk to us, and let us know, 'Hey if I can do it, you can do it.' That's my favorite part of Corner to Corner. The actual, genuine support system."
Now, Otis OhButtonz is on his way to becoming a household name here in Nashville, with plans to be on SharkTank one day not very far behind! He is an energetic and outgoing entrepreneur, as well as an Academy Alumn.
He doesn't just sell buttons, though. He sells smart buttons.
"I'm the King of Buttons. Pretty much, I'm going to start a whole new wave and innovate this whole industry. It's a smart way to market, honestly. It's not a QR code, it's an NFC tag. "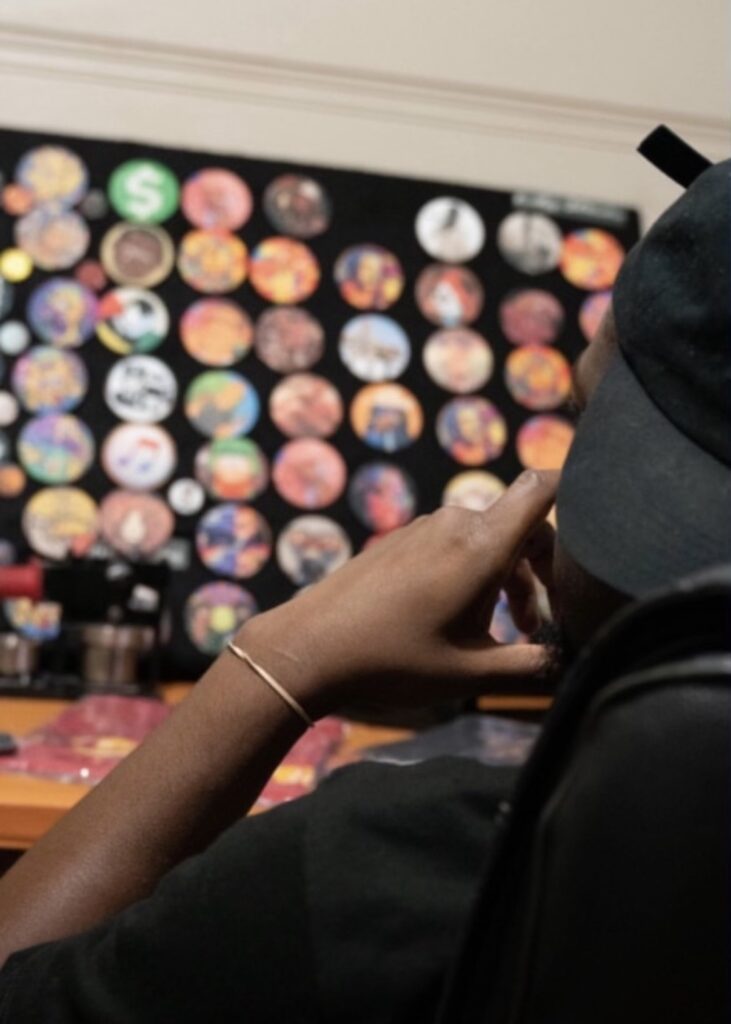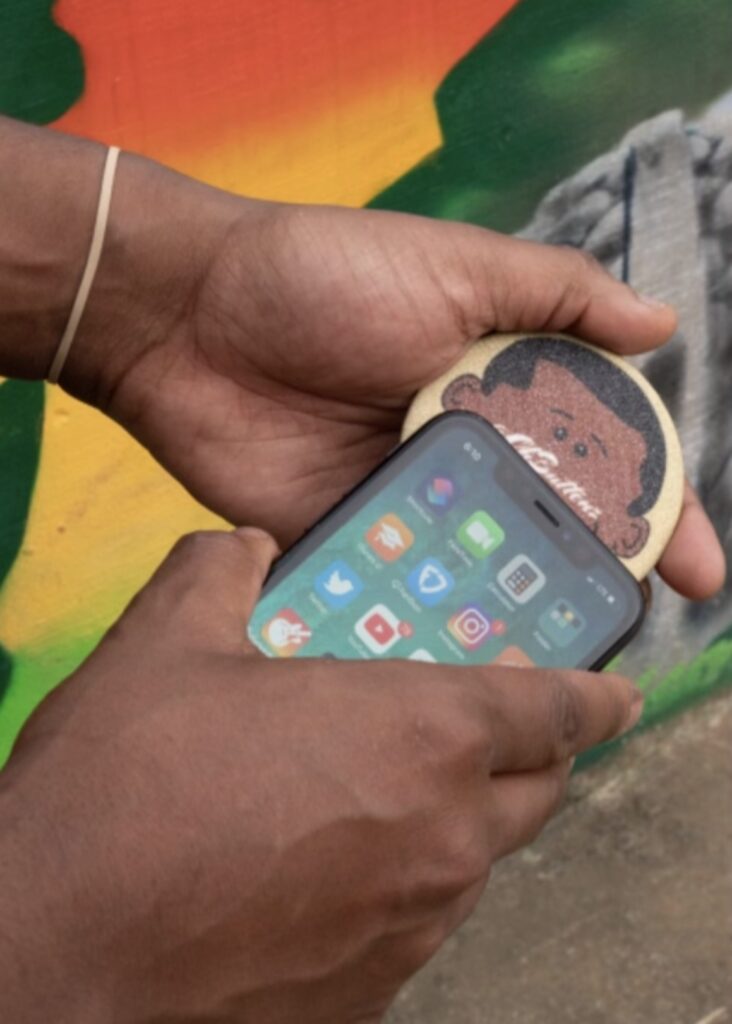 What's an NFC tag you ask? NFC stands for "Near-Field Communication", and these small tags allow two "devices" to communicate and share data, wirelessly. It's super customizable and easy to use – just tap your phone to the tag and voila!
"NFC is pretty big overseas, but Americans are sleeping on it. The only way that America is really using NFC tags right now is when you go to like, Walmart and you pay for your groceries using the tap-to-pay option. But NFC tags come in so many other various forms!"
And Otis is bringing that technology right to our neighborhood.
"I got third place at The Academy Graduation's Compassionate Pitch Contest in the spring of 2022, and three days after my pitch, I couldn't even walk down the street without people yelling, 'OhButtonz I saw your speech!' I was recognized everywhere I went. It's a whole movement!"
Since then, Otis has partnered with a number of his fellow Academy Alumni to provide them with personalized OhButtonz for their businesses. We've even had our own order here at Corner to Corner!
Our entrepreneurs at The Academy have wild and audacious goals, just like our team here at Corner to Corner does! We love to see our neighbors, like Otis, flourish using their own God-given talents and passions.
Visit Oh Buttonz's website to learn more about Otis' product!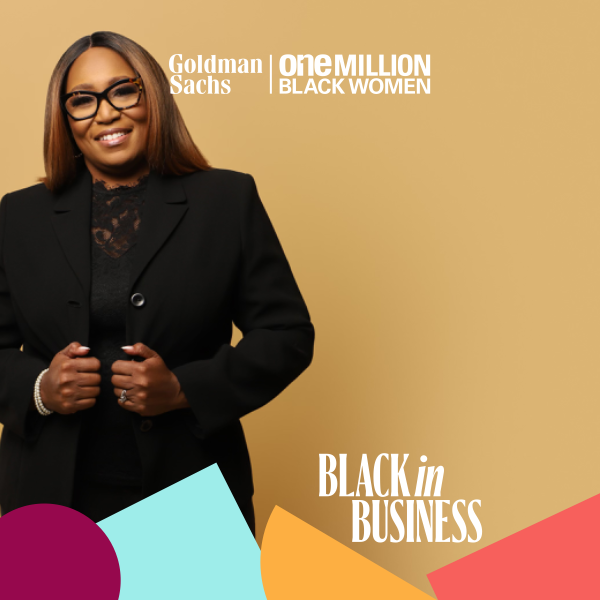 Amplified Connections
Tara Holt watched Facebook ads about The Academy for two years before she finally took matters into her own hands and enrolled. "I was like, 'Man, that lady Shana is very exciting, and I see her everywhere!' So I decided I'm going to go for it, I'm gonna sign up! It's not going to cost me much, a little time, a small bit of money."
Now, she's Corner to Corner's full-time Director of Operations and a participant in Goldman Sachs' Black Women in Business initiative.
But let's not get ahead of ourselves. Because in the fall of 2019, Tara was still struggling with the mindset of being an entrepreneur.
"I had already been working with someone on the side but did not really label it as a business. It was just, 'Ok I need your expertise, come help me, and I'll pay you.' So I didn't have the mindset of it being an actual business for myself. But the more I started seeing the advertisements for Corner to Corner, I was like, 'Hey, I actually am a business and I can do this!' I just needed to formally set it up and get with someone who could teach me the experience, the knowledge, and the background in how to run a business, so that this side hustle I had could be lucrative for me."
And that's how a lot of our entrepreneurs come into The Academy; Working their side hustle, but unsure how to make it their main focus; Hesitant to take that leap for personal or financial reasons. Sometimes our entrepreneurs join The Academy with just a business idea, other times they join with a full-time business they want to grow and expand.
"Once I joined The Academy, it was no longer, 'Can I do this?' It was, 'You can do this!'. And there are facilitators there, telling you face to face that you can do this." And during Tara's cohort, Shana, our now-Executive Director, was actually her facilitator! 
"The Academy took me to the next level by helping me be more business minded. It helped me view myself as a business entity, not just a convenience. The Academy taught me how to know my worth."
After graduating with the Fall 2019 Cohort, Tara continued to grow in her business, ElevateNow. She frequently meets up for dinners with her former classmates, and their group chat is alive and well offering support for one another's businesses. She also stayed in touch with The Academy Amplified, our program that offers continued support to Academy Alumni on their business journey.
And that's how she became our Academy Invested Specialist, working to grow our 1% interest loan program that launched in 2021.
"Since I've taken over The Academy Invested, we've actually approved $9,500 in loans for our Academy Alumni, and we're increasing that number as we speak. Every few days, our co-founder, Will, calls me and says, 'Hey! I got you some more money!!'" She chuckles at that, but the truth is that these funds are creating sustainable sources of growth for small businesses here in Nashville.
"The Academy Invested is ramping up, it's the next big thing for our programming here at Corner to Corner. The whole concept of this initiative is to be that leg up for our Academy Alumni, for these entrepreneurs. Because I know I struggled with that in the beginning. I had the business idea, I knew what I wanted to do and what I could do but it's like hey, I don't have money for a website, and I can't build a website by myself!! I didn't need a lot, I just needed something and some support. The Bible talks about, 'Never despise small beginnings.' If our Academy Alumni can do what they're supposed to do with this loan, how much more can they do when we expose them to bigger funds? We want to prepare them for the banks, for the bigger loans, and all that starts with The Academy Invested."
Tara's passion for this initiative is apparent. We keep our programs at The Academy and The Academy Amplified intentionally community-led for this very specific reason. Tara can put herself in the shoes of our entrepreneurs, because she herself is one, too!
As Tara was growing our loan initiative, our nonprofit entered into a partnership with Goldman Sachs and their Black Women in Business initiative. Tara applied and was accepted to the Fall 2022 Cohort, along with a handful of other Academy Alumnae.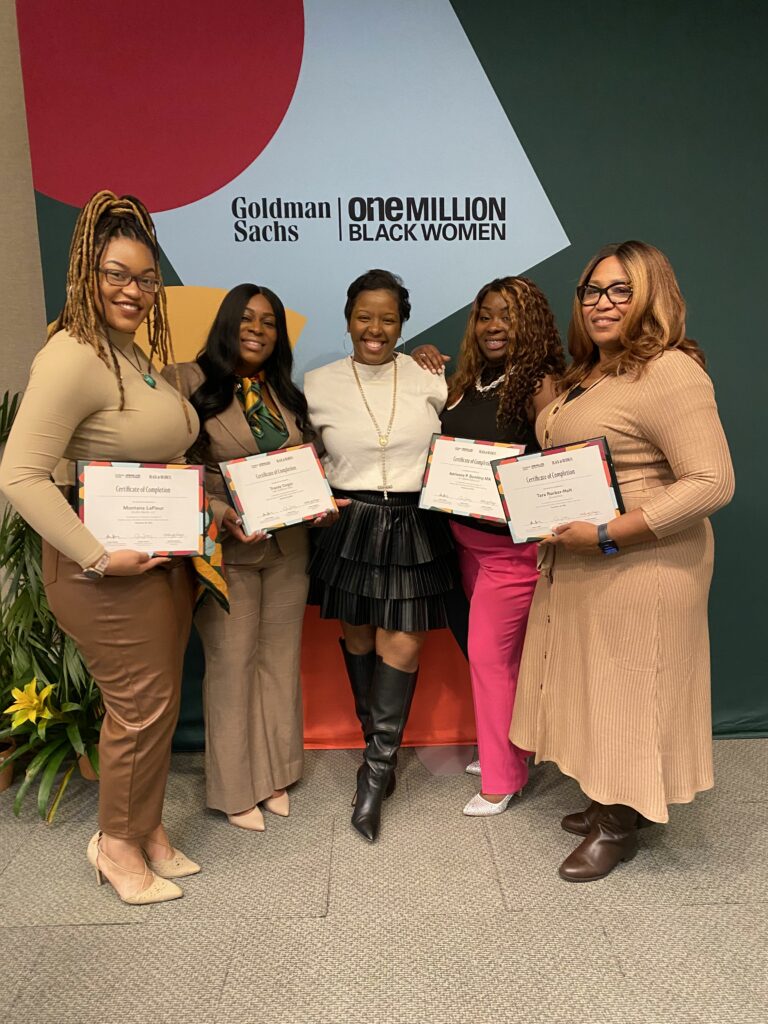 "Imagine this: You get to New York, and you're in a room full of strong, business-minded African American women who look like you. For me, being in Nashville, you don't get that experience often. So just being in a room full of people who look just like me, who have the same vision and same desire to be successful in their businesses as I do – it was just phenomenal.
It lit the flame even more. 
And quite honestly, there was another determining factor for me personally that set this experience apart. If you talk about a Black, female business owner from the south, versus a Black female business owner from the north or the west coast or the midwest, it's a totally different mindset. I had to take a step back and look at the differences between those experiences as well.
It was a growth opportunity. I sat back, I observed, I learned, I listened, and I asked questions. It was just mindblowing to see that I have the opportunity to be in that room. The panelists they had, I mean, these are millionaires, billionaires – and they look just like me! It was eye-opening."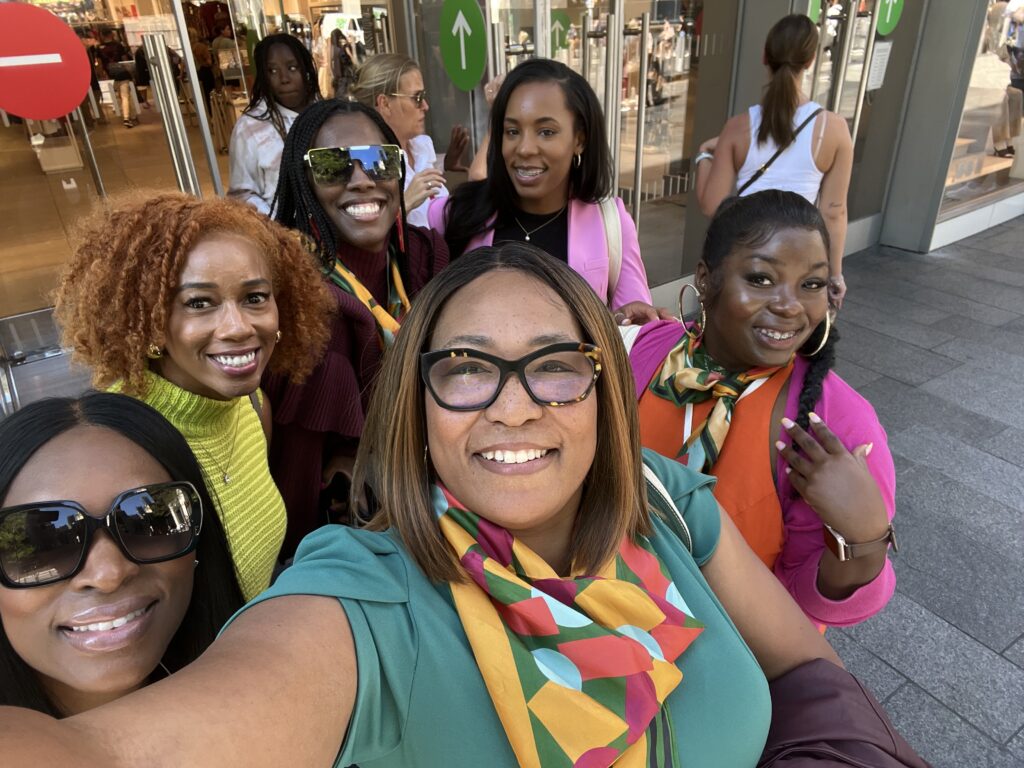 With 88% of our Academy Alumni being Black women, being able to connect with a larger community of like-minded businesswomen was beyond special. It comforted and inspired Tara to know that there are more women, just like her, out in the world absolutely killing it as businesswomen.
When she got back from New York and continued her work at The Academy Invested, another opportunity dropped in her lap.
"When the Director of Operations position was brought to me, I had to really step back and take some time to think and pray about it. I had been sitting at my corporate job for 21 years, working with The Academy Invested and on my business, ElevateNow, on the side. I knew that it was time for me to do something else, but, personally, I was content being comfortable in my corporate job. I knew that the Lord had been pulling at me to do something different and step out. It was an answer. He was like, 'I've been telling you to go, I need you to go!' So, I did! I think the transition to this new job was definitely orchestrated, it was God-ordained."
And that's how Tara's journey that started in 2019 as an entrepreneur lacking confidence in herself and her business' worth turned into her becoming The Academy Invested Program Specialist, a Goldman Sachs Black Women in Business graduate, and now, our Operations Manager!
Tara's journey over the past few years has been nothing short of absolute inspiration, and a true reflection of how much these programs can shift a person's life. We are so grateful to have Tara as a part of our community, and we cannot wait to see all she does for our nonprofit in the future!
Contact Tara: ElevateNow4U@gmail.com // 615-709-2097